I could eat cereal every night for dinner. Seriously. Just rotate Cinnamon Toast Crunch and Honey Nut Cheerios, and I'd be completely content. To be quite frank, I am so tired by the 5 o'clock hour that I just want to get through the bedtime routine and sit. And eat cereal.
I started intentionally planning our meals last year because we were in a season where we were just passing each other in the doorway – one person in, one person out. We have a more routine schedule now, but our week nights and weekends are still busy bustling in the door around 5 or later, and then personal, work- or school-related events in the evenings.
Meal planning has saved us more than just money in our grocery budget. It's saved us communication breakdowns, last minute splurges to restaurants, and tired meltdowns at the 5 o'clock dinner hour. This year, specifically, I have made it a goal to be even more intentional with meal planning.

First, I find meals. Finding meals is probably the hardest part of meal planning for me. This is mostly because I try to mix things up so we don't eat the same thing every week, and I also don't have a ton of time to pour through cookbooks. My main go-to source? Pinterest. It's an easy way to find meals and an even easier way to organize the meals. I keep three specific boards for dinner: Tried and True Recipes, Dinner Ideas, and Crockpot Meals.
What I love about collecting meals on Pinterest is that it's right at my fingertips to check on the recipe when planning out my grocery list as well as planning on how long it will take to cook dinner for the night. I also love that if I don't care for a recipe after all, I can simply delete it and keep my board nice and tidy with only the meals we love.
Then, I plan out our meals for the week. Planning out the meals for the week can be a little tricky, but there are a few things I do to make it seamless.
First, I consider our schedule for the week. On the nights Chris gets home later than normal, I try to have something cooked that can stay warm (in the crockpot) or that can easily be reheated. I typically have a couple evening events for my job each month, so I will typically schedule leftovers. I also schedule leftovers at least once a week anyway just to allow for a break (and a hefty dose of grace) and so that food doesn't go to waste.
I also see what we have on hand. I'll look in our freezer and see if there is anything I can throw into the rotation before I plan out the meals. This saves us money in the long run.
I make sure to check the weekly sales. I tend to plan meals around meat or veggies that are on sale for that week. For example, asparagus is usually $4.99 a pound. Last week, it was on sale for 97 cents! Needless to say, we had asparagus a few times.
Of course, I always plug in meals I know we love as well as brand new recipes to try out. We have about 10 meals or so that are a tried-and-true fixture in our dinner rotation. I try not to have the same thing in a two- to three-week period. It's not science, but it helps mix things up a bit.
Next, I write it out. Throughout the week, I'll throw meal ideas into my planner, and then transfer them to our chalkboard wall on the weekend. It's a great visual reminder for me as I am prepping dinner and it keeps Chris from having to ask, "What's for dinner?" (He's been known to do this as early as 7:30 a.m.) If I'm really on top of it, I might even have meals planned out weeks in advance.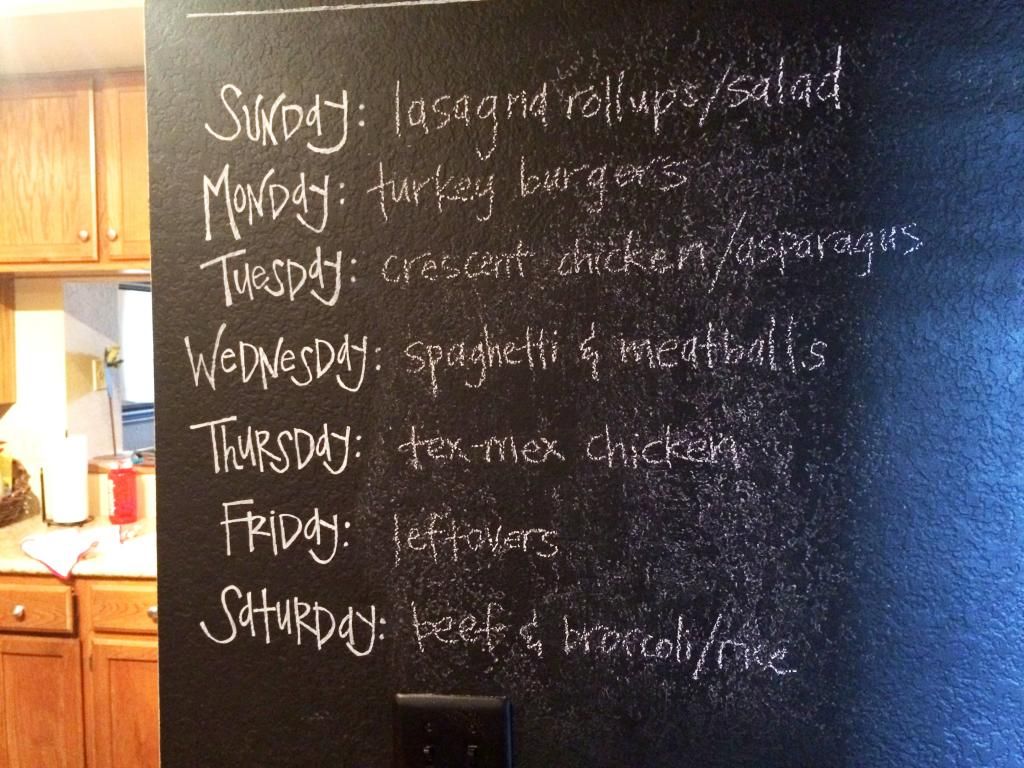 Finally, I hit up the grocery store. Grocery shopping is sometimes the thorn in my side when it comes to the weekend because first, it's a non-negotiable expense, and second, it's usually accompanied by a restless toddler. If I can get in and out efficiently, under budget, and with a happy kid, I consider it a success.
After I find meals for the week and plan out our dinner schedule, I make my list according to what each recipes needs, the weekly grocery ad, and any coupons I have on hand.
By going into the week with a meal plan, I spend way less than what I would if we didn't have a menu and our evenings are much less chaotic.
Bon Apetit!